At Custom Air, we offer After Sales Service to our valued customers. If there are any problems, we attend to them promptly. Our service team pride themselves on their punctuality.
Our fully trained and licenced technicians know what they are talking about. Your system is brought back on line quickly with no fuss. We carry a range of commonly used spare parts to ensure the speediest repair. We also offer a maintenance program in which all of our customers are sent an annual reminder notice explaining what is offered and how much it will cost. It requires you only to contact us and make an appointment.
Service Tips & Hints Starts Here
---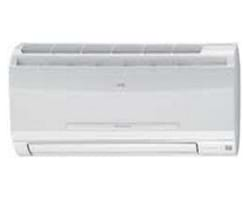 Wall or Floor Mount Split Systems
Check batteries in the remote control - is the machine beeping you when you operate the control?
Check the main switch inside the unit's front cover - is it on?
Try the emergency switch located inside the front cover.
Ensure the outdoor unit is not covered - it must have a free passage of air through it.
Check that the remote control is set for either heat or cool and the set temperature is above or below the room (ambient) temperature. N.B. If unit is set to 'dry' it will not cool in extreme temperatures.
Remember that the unit incorporates an automatic time delay before starting.
Is the unit in defrost mode? If so, leave the unit on and it will automatically return to heating mode. N.B. In defrost mode water vapour is emitted from the outdoor unit.
Read the instruction book.
Call us on 9831 3700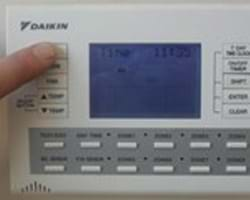 Ducted Systems
P8' (Mitsubishi Electric) or 'spanner' symbol (Daikin) showing on the controller and flashing light. This fault usually occurs if there has been a local power failure. Sometimes it may be necessary to allow time for the power supply to be rectified. If problem persists then call us on 9831 3700.
If system is operating but not efficiently - check the return air filter behind the air intake grill in ceiling is clear - ALL air must pass through here before supplying outlets.
Check that the zone or zones that are switched on allow air to return to the air intake filter - close off areas that are not being air conditioned, that is, toilets, bathrooms, outside doors and windows.
Check that the selected temperature is above or below ambient temperature and that 'cool' or 'heat' is selected. Not 'fan' and not 'dry'.
Is the outdoor machine running? Remember to allow a five minute delay.
Make sure that nothing is obstructing air flow through the outdoor machine.
Call us on 9831 3700 or fill out the form in our contacts page, and one of our staff will get back to you as soon as possible.