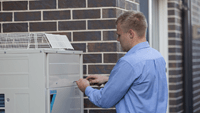 ---
Why it's important to have your air conditioner serviced annually.
---
Your air conditioner is the most important feature in your home during those hot Australian summer days and chilly winter nights. It makes your life comfortable, and without a working air conditioner discomfort levels rise quickly. Not only does your air conditioner regulate temperature inside your home, it also reduces humidity levels in the air.
We recommend a residential system be serviced (Routine Maintenance) annually, however if your system gets heavy use, it may be beneficial to have a bi-annual service.
Commercial systems should be maintained on a 6 week to quarterly basis, depending on environmental factors.
1. Key issues can be missed if services are skipped. Our technicians specialise in preventative maintenance. Getting your air conditioner serviced annually means we have the opportunity to foresee potential issues, and while it may cost a small amount to have it fixed at the time of service, the alternative is going without your air conditioner for days during the peak time if it were to have a major failure during the heat of summer or right in the middle of winter, which is a highly uncomfortable position to be in.
2. Energy costs are higher with ill-maintained equipment. Your system is struggling against itself to deliver the temperature outcome you need, resulting in a system working harder and drawing more energy, increasing your bill.
3. All components are important, but your filter requires frequent attention. The return air filter in your ducted system is the component that filters the air you breathe. It is recommended that the filter is cleaned every 6-12 weeks, and replaced when showing signs of wear. A blocked filter can cause collapsed duct, overworking of system and other system failures.
4. Your families respiratory health is impacted by your air conditioning system. The filtering of particles from the air improves the air quality of indoor air you breathe, and plays a vital role in your respiratory health, specifically those who may suffer a compromised respiratory system. There is generally no fresh air intake for an air conditioning system, meaning the air is recycled in your home, making quality clean filters systems (including scrolls and inner workings of indoor units) a priority for air quality.
5. Most importantly, a well maintained system stands the test of time. Looking after your air conditioner can mean it will serve your home for 15-20 years before needing replacement or upgrade. Just like a car, your air conditioning system is an investment, and like any major investment, it pays to service and look after your equipment.
---